Weather Modification - Multimedia Gallery
Media Advisory - April 21, 2008
Weather Modification Media Advisory
Multimedia Gallery
Commercial operators, governments, and academic researchers worldwide are engaging in cloud seeding and other weather modification projects to try to influence local conditions. NCAR scientists and their colleagues are investigating efforts to build up wintertime snowpack in the western United States and bring more rain to drought-stricken regions around the world.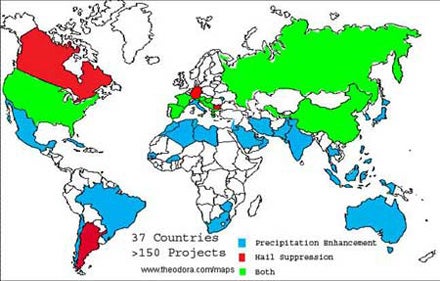 A. Weather modification programs worldwide
This map shows more than 150 weather modification programs operating in 37 countries worldwide.  Weather modification techniques include hail suppression and precipitation enhancement.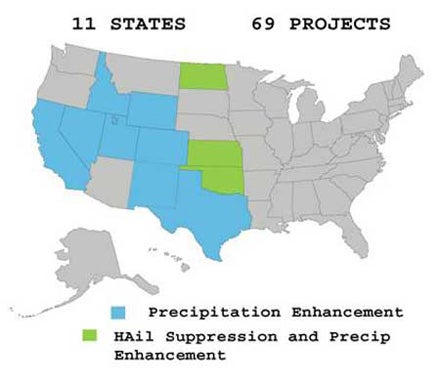 B. Weather modification programs operating in the United States
This map shows regions in the western United States engaged in precipitation enhancement and hail suppression.
Videos
C. The impacts of air pollution on decreasing snowpack
A before-and-after view of inadvertent weather modification. This animation shows the detrimental impacts of air pollution on orographic clouds that produce snowpack over ranges like the Sierras that are downwind from coastal cities. Click on the images to view the animations.
Credit: Prof. Daniel Rosenfeld, Hebrew University of Jerusalem, Israel
D. Aircraft-mounted flares release cloud-seeding particles in flight
Flares mounted in a rack off the wing of a small research aircraft burn to release their water-attracting, or hygroscopic, particles during a cloud-seeding experiment. Hygroscopic particles such as potassium/sodium chloride create larger raindrops that fall more quickly, colliding with smaller droplets on the way and stimulating rainfall. Click on the image to view the video.
Credit: Roelof Bruintjes, NCAR