Will climate change shift renewable energy resources?
Scientists map future wind, solar availability
October 8, 2014 | Building a large-scale wind farm or solar power plant involves an enormous investment in time and money. Requirements include exploring prime sites for capturing energy from wind or sunshine, purchasing the land, undergoing a potentially lengthy permitting process, and installing costly infrastructure. Not surprisingly, utilities expect such facilities to last many decades.
But what if, years from now, changes in climate caused some of the wind or sunshine to shift away from major facilities?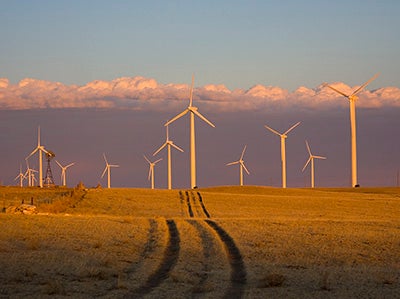 An array of wind turbines generates power on a sunny afternoon at the Cedar Creek wind farm in northeast Colorado. New research is providing estimates of how the availability of wind and solar energy might shift as a result of climate change over the next few decades. (©UCAR. Photo by Carlye Calvin. This image is freely available for media & nonprofit use.)
To help provide guidance to utilities, scientists at NCAR and the National Renewable Energy Laboratory have produced maps that show how wind speeds and solar irradiance may evolve by 2060 across the continental United States. The maps (see bottom of page for a sample) include projections for each season and for different times of day, while taking into account natural variability.
The maps provide a first, rough sketch of how wind and solar patterns may shift with climate change. Research into regional climate change remains a challenging field because of uncertainties over how warming temperatures will affect particular parts of the country. The maps were created for the Department of Energy's Regional Energy Deployment System (ReEDS) model, which helps the Energy Department optimize and visualize the build-out of U.S. electricity generation and transmission systems. The underlying research will be submitted to a peer-reviewed publication.
As this sampling of maps shows, the United States is likely to experience some noticeable changes in wind and sunshine patterns by 2060. For example, the Northeast should prepare for a slight increase in wintertime winds in the morning at the height of wind turbine hubs (about 250 feet above the ground). In summer and fall, a noticeable reduction in winds at the same time of day is likely. Parts of the Southwest, in contrast, are likely to have less wind at hub height in winter and somewhat more in summer and fall.
By 2060, much of the country can expect more energy from the Sun during an average summer morning. In the winter, however, the northern tier is likely to get less energy from the Sun while the southern states receive more.
The shifts are not overwhelming—generally 10 percent or less. But they can be important for energy planning.
"These are subtle changes but they can make a difference in where a utility sites a wind or solar facility now," said Sue Haupt, who oversees renewable energy research at NCAR. "Energy managers need to consider whether a resource is going to decline or become stronger in the future."
To create the maps, Haupt and her team drew on an advanced, NCAR-based database of current wind and solar resources, known as the Climate Four Dimensional Data Assimilation System. They then turned to simulations of projected future regional climate conditions that had already been generated by a number of computer models for the North American Regional Climate Change Assessment Program. By using artificial intelligence techniques, they were able to emphasize those computer models that most accurately captured current wind and sunshine conditions and apply those models to produce outlooks of future conditions.
Haupt said she hopes to update the maps in a few years, drawing on more sophisticated climate models.
Note - October 14, 2014 | The fourth paragraph and maps caption have been updated to clarify that this research, performed for the Department of Energy, will be submitted to a peer-reviewed journal.
---
Writer/contact
David Hosansky, NCAR & UCAR Communications
Collaborating institution
National Renewable Energy Laboratory
Funder
National Renewable Energy Laboratory (U.S. Department of Energy)
---
DIVE DEEPER
The maps below indicate possible changes in projected solar radiation (top) and wind speed (bottom) during morning hours, averaged across each of the four seasons, for the year 2060 vs. 1995. Created for the U.S. Department of Energy, the maps provide a first, rough sketch of how wind and solar patterns may shift with climate change. The researchers also created additional maps for afternoon, evening, and overnight conditions. The underlying research will be submitted to a peer-reviewed journal. (Images courtesy Sue Haupt, NCAR.)