Bob Henson goes underground
Veteran science writer leaves NCAR/UCAR for new venue
December 8, 2014 | Let's cut to the chase: Bob Henson is not really retiring.
It's true that the senior science writer in NCAR/UCAR Communications, who's been a mainstay of the organization since 1989, is leaving at the end of the year. He'll officially be a retiree, based on age plus years of service. But instead of retiring in the traditional sense, Bob is taking on a new challenge: full-time blogger for the Weather Company's popular site, Weather Underground.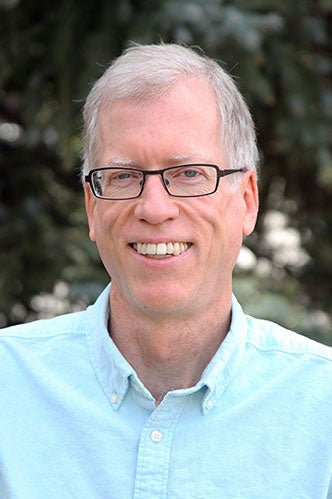 Bob Henson (©UCAR. Photo by David Hosansky.)
"It's been so exciting working here and being part of an organization so woven into atmospheric science," Bob says. "But I couldn't resist the opportunity to cover weather and climate change across the nation and around the world on a daily basis. I'm really looking forward to it."
For Bob, working at NCAR started as a dream that dates back to his Oklahoma childhood, when he became fascinated with severe weather. After graduate school in both meteorology and journalism at the University of Oklahoma, he came to Colorado for a summer job as a storm spotter for NOAA. Two years later, after a brief stint with the Daily Camera, he landed a half-time job in the NCAR/UCAR Communications office as a writer/editor in charge of Staff Notes, then a weekly print publication,
From the moment he arrived, Bob felt at home. "I've loved writing about the organization—the research, the people, the interesting life stories," he says. "Science unfolds here as we watch. And the working environment here has always been so friendly. It's a great mix of the best qualities of academia and the public sector."
Bob has weighed in on almost every public-facing aspect of NCAR and UCAR: ML exhibits, websites, news releases, photographs and animations, social media, strategic plans, and especially publications, including Staff Notes, UCAR Quarterly, and biannual reports known as Highlights. He has played a leading role in the all-digital AtmosNews, including a content revamp just this past year. Bob's extensive knowledge has also been a boon to reporters seeking context for weather and climate topics in the news, whether providing background or being interviewed within his areas of expertise.
Locally, one of Bob's most visible contributions has been co-creation of the NCAR Weather Trail behind ML, in 1997. He got the idea from a Swiss scientist while attending a conference, then worked with the exhibits program (now part of the UCAR Center for Science Education) to help transform an existing footpath into our continent's first interpretive weather trail. "It's such a tangible thing that people from all over can come and enjoy," he says.
Along the way, Bob has taken time off and burned midnight oil to write three highly regarded books on weather, climate change, and the history of broadcast meteorology, which has led to additional media attention.
Rachael Drummond, director of Communications, says Bob will be a hard act to follow. "His knowledge, his writing talent, his generosity—it all has meant so much to the office. He has become an institution, and he will be missed."
Meanwhile, Bob stresses that, like so many retirees, he's not entirely going away. He'll remain in the Boulder area, working from a home office. And because he will be writing about weather and climate, he'll continue to attend talks and touch base with researchers here.
"More great things are ahead for the organization, and I'm glad I'll be able to help share those with a broad audience," he says. Reflecting on his time here, he adds: "It's been a fantastic journey. I'll always consider myself part of UCAR and NCAR."