Forecasting to fight meningitis
NCAR's custom outlooks provide guidance to large-scale immunization program
April 27, 2012  •  As health officials in Africa determine how best to distribute vaccine supplies to immunize tens of millions of residents against meningitis, they are evaluating a new and potentially vital decision-making tool: Specialized forecasts that predict the weather conditions associated with the beginning and end of outbreaks of the often deadly disease.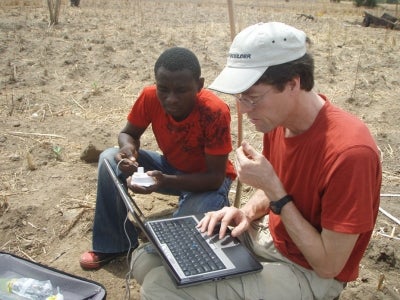 NCAR's Thomas Hopson and Evans Amoro (Navrongo Health Research Centre) download meteorological data. (Photo by Christine Wiedinmyer, NCAR.)
Epidemics of bacterial meningitis in Africa occur only during the dry season and end with the onset of the summer rainy season. A new NCAR and UCAR initiative this spring is providing the World Health Organization (WHO) and local health officials in Africa with precision forecasts showing which areas are likely to experience an increase in humidity and the start of the rainy season over the next several weeks. The goal is to help health officials to concentrate their resources on villages that are most at risk.
"The NCAR forecasts can help us determine which populations will be in most need of immunizations," says Stéphane Hugonnet of WHO's Pandemic and Epidemic Diseases Department. "Getting advance notice of changing humidity is one of several factors we can consider in the immunization program, which we hope will save thousands of lives."
Epidemics of bacterial meningitis break out periodically across sub-Saharan Africa's so-called meningitis belt, which stretches across the continent from Senegal to Ethiopia. The epidemics can kill thousands of people in a single year.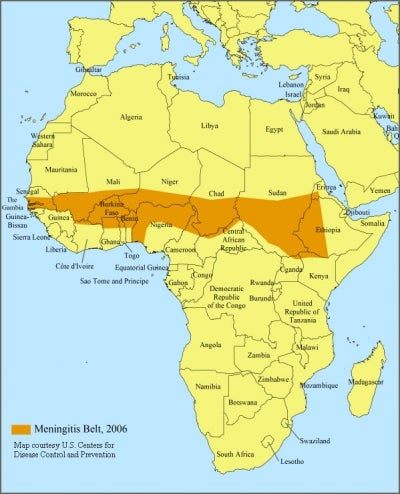 The meningitis belt stretches from Senegal to Ethiopia. (Map courtesy U.S. Centers for Disease Control and Prevention.)
Health clinics in the meningitis belt are attempting to control the disease with a new vaccine, known as conjugate A and distributed by the World Health Organization and its partners.
To extend the medicine's reach, NCAR assembled an unusual team of atmospheric scientists, medical experts, sociologists, and others to pinpoint the precise atmospheric conditions that have a correlation with the disease. They found that low humidity is needed for the disease to spread, although the exact reasons for this link are still unknown. Once the humidity exceeds 40%, the epidemics decrease significantly.
Armed with this insight, NCAR scientists designed a custom system to issue 14-day forecasts of atmospheric conditions across the meningitis belt, drawing on a number of computer models as well as satellite data. The forecasts focus on detecting patterns in the upper atmosphere that correlate with higher humidity and the impending start of the rainy season, which tends to advance in irregular fashion from south to north.
Every week, NCAR provides a weather briefing to WHO and public health representatives of nations in the meningitis belt. Health officials are weighing how to use the forecasts, along with other information on meningitis trends, to make adjustments to the distribution of vaccinations, pulling back from some areas that are at lower risk while pouring more resources into the most vulnerable areas.
"This type of project would not have been possible a decade ago, when weather could not be predicted a week or more in advance," says Thomas Hopson, an NCAR meteorologist who helped design the forecasts. "This really demonstrates how years of basic research into the atmosphere can produce enormous societal benefits."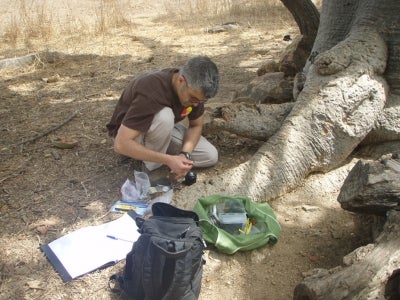 UCAR's Raj Pandya prepares a filter for capturing airborne particulates. The filter can then be analyzed in a laboratory to determine the amount and composition of particles suspended in the air, shedding light on how a broad suite of environmental conditions might relate to meningitis. (Photo by Christine Wiedinmyer, NCAR.)
UCAR's Rajul Pandya, who coordinates the project, adds: "Ultimately, we hope to build on this initiative and provide information to public health programs battling weather-related diseases in other parts of the world."
Funding for the initiative comes from the National Science Foundation and from Google.org. NCAR and UCAR are working with a number of partners, including Meningitis Environmental Risk Information Technologies (a consortium of climate and health institutions under the auspices of the World Health Organization), the African Centre for Meteorological Applications for Development, University of Ghana, University of Colorado, Columbia University International Research Institute for Climate and Society, North Carolina State University, and the World Meteorological Organization.
The initiative can help researchers project the spread of other weather-related illnesses, such as dengue fever or plague.
Vanja Dukic, a University of Colorado applied mathematician who developed a statistical model linking an air pollution computer model to incidence and transmission of meningitis, says that such information can be vital to health officials seeking to better contain contagious diseases.  "This is the first time we have used a statistical model like this for an infectious disease," she says. "The research has implications for policy makers and intervention with regards to a number of diseases sensitive to weather and climate change."