Talking science with the board
Researchers share their work with trustees and staff
March 1, 2013 | After scoring a success at NSF in November, a group of NCAR scientists and students reprised their poster presentations at Center Green for the UCAR Board of Trustees on February 27. The lunchtime session, which was open to all staff, took place prior to the start of the two-day February board meeting. Poster topics ranged from the Eclipse Megamovie Project (Scott McIntosh, HAO) to water cycle research across scales (Roy Rasmussen and Dave Gochis, RAL) to the interdisciplinary land-atmosphere study called BEACHON (Peter Harley and Jim Smith, NESL/ACD).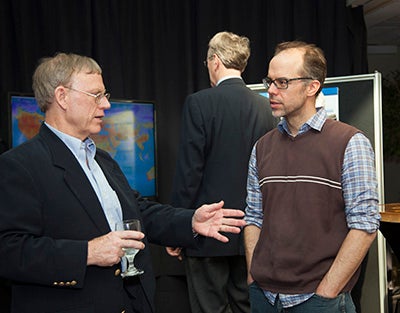 UCAR trustee Fred Carr (University of Oklahoma) chats with Dave Gochis (RAL) during the lunchtime poster session at Center Green on February 27. (©UCAR. Photo by Carlye Calvin.)
Devin Brown and Nick Potts shared their experiences in EOL's Summer Undergraduate Program for Engineering Research (SUPER). Devin worked on a project to enhance real-time access to data during field projects, including new tools to monitor the flow of data into the EOL system and catch any observations the system might be missing.
"I think it's a fantastic opportunity for students to learn and contribute," says Devin of the SUPER program.
At the Board of Trustees meeting, Roberta Balstad (Columbia University) was elected to chair the board for the upcoming year. She succeeds Dennis Hartmann (University of Washington), who served two years at the helm. Along with activities pertaining to university relations, the board was briefed on the ongoing searches for NCAR and UCP directors and on UCAR's proposals for dealing with the impacts of sequestration. (See the related email sent to all staff on February 20 by Tom Bogdan and the Presidents' Council).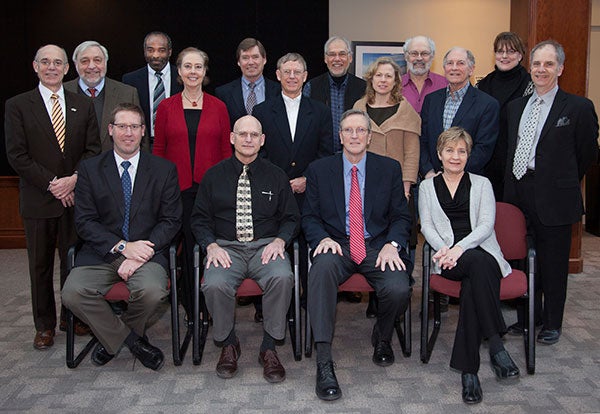 UCAR Board of Trustees: Front row (left to right): Scott Sternberg (Vaisala), Steve Ackerman (University of Wisconsin–Madison), Dennis Hartmann (University of Washington), Roberta Balstad (Columbia University). Back row: Rafael Bras (Georgia Institute of Technology), Jerry Melillo (Woods Hole Oceanographic Institution), Everette Joseph (Howard University), Kerry Cook (University of Texas at Austin), Eric Betterton (University of Arizona), Fred Carr (University of Oklahoma), Rich Clark (Millersville University), Vicki Arroyo (Georgetown Law Center), Alan Robock (Rutgers University), Gene Takle (Iowa State University), Kelly Fox (University of Colorado Boulder), Tom Bogdan (UCAR). Not pictured: Ken Bowman (Texas A&M University), Amy Clement (University of Miami), Molly Macauley (Resources for the Future). (©UCAR. Photo by Carlye Calvin.)