UCAR Signs Agreement to Manage NCAR
BOULDER—The University Corporation for Atmospheric Research (UCAR) has signed an agreement with the National Science Foundation (NSF) to continue management of the National Center for Atmospheric Research (NCAR) for five years, with the possibility of a five-year extension. The agreement was signed last week.
UCAR, a consortium of 73 universities, has managed the center since its founding in 1960. In 2006, for the first time, NSF opened the management of NCAR to competitive proposals.
According to Clifford Jacobs, who oversees NCAR at NSF, the reviewers recommended "unanimously and without reservation" that UCAR be awarded a new agreement, citing NCAR as a world leader in its field.
NCAR is a leading center of climate research, and several dozen of its scientists shared in the 2007 Nobel Peace Prize for their work with the Intergovernmental Panel on Climate Change. The center also studies severe weather, air pollution, upper atmosphere phenomena, the Sun, and the societal impacts of weather and climate. It works with meteorologists worldwide to improve forecasting and better protect society from weather hazards.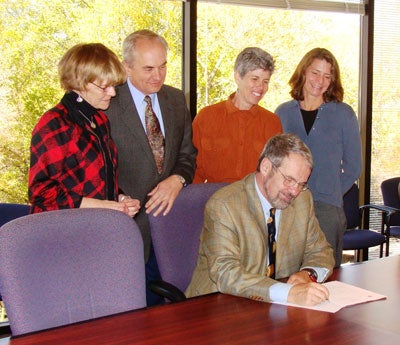 Richard Anthes, president of UCAR, signs the new cooperative agreement with the National Science Foundation. Looking on are UCAR personnel who were central to the agreement negotiations. Left to right: Katy Schmoll, vice president for finance and administration; Jeff Reaves, associate vice president for business services; Gina Taberski, manager of sponsored agreements; and Meg McClellan, UCAR general counsel. [ENLARGE] (©UCAR, photo by Carlye Calvin.) News media terms of use*
"We're very gratified by this vote of confidence from the community and NSF," says Richard Anthes, UCAR president. "It acknowledges a unique partnership among the research community, the national center, and the National Science Foundation."
Anthes adds that he's looking forward to implementing plans that have been submitted to NSF.
"Our work with our national and international partners in the next five to ten years could literally be critical to the health of the planet," he says.
UCAR is a consortium of 73 North American universities with Ph.D. programs in the atmospheric sciences and related disciplines. It is headquartered in Boulder, Colorado, also the site of NCAR.