NCAR Appoints New Deputy Director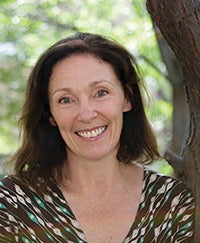 Maura Hagan. [ENLARGE] (©UCAR, photo by Carlye Calvin.) News media terms of use*
BOULDER—Maura Hagan, a senior scientist at the National Center for Atmospheric Research, has been named NCAR deputy director.
"Maura Hagan is well respected both within NCAR and by the university community we serve," says NCAR director Eric Barron. "She is also deeply committed to the success of NCAR and will help ensure that science is well represented in my office."
In addition to her duties as deputy director, Hagan will continue as director of NCAR's Advanced Study Program (ASP). By combining these two positions, NCAR expects to save considerable administrative costs, allowing the center to focus its tight resources on scientific research.
Hagan joined the scientific staff of NCAR's High Altitude Observatory in 1992 and was promoted to senior scientist in 2003. In 2005, she became director of ASP, which encourages development of early career scientists, fosters interactions with universities, and promotes continuing education at NCAR.
Hagan, who received a Ph.D. in physics from Boston College in 1986, does most of her research on the upper atmosphere. As ASP director she has focused on increasing the diversity of early career scientists, as well as support for science education and outreach to the research community. Hagan also has strong ties to the wider science community, where she has served on a number of National Research Council, NASA, and National Science Foundation committees and councils related to solar, space, and terrestrial science. In the mid-1990s she served as an associate editor of Geophysical Research Letters.