Regional Climate Change in the United States - Recent Reports Fact Sheet
Regional Climate Media Advisory
Transition & Other Recent Reports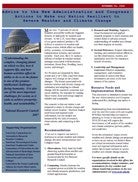 In August 2008, eight leading professional organizations in the field of weather and climate produced recommendations for the next administration and Congress to better protect the United States from severe weather and climate change. They issued five recommendations to reverse declining budgets and provide needed tools, information, and leadership to decision makers.
The eight organizations that wrote the document are the University Corporation for Atmospheric Research, the American Meteorological Society, the American Geophysical Union, the Weather Coalition, the Consortium of Universities for the Advancement of Hydrologic Science, the National Association of State Universities and Land-Grant Colleges, the Consortium for Ocean Leadership, and the Alliance for Earth Observations. Collectively they represent thousands of scientists, technology specialists, public policy analysts, and other experts.

Produced by the U.S. Climate Change Science Program (CCSP) and the Subcommittee on Global Change Research, this scientific assessment released in June 2008 provides the first comprehensive analysis of observed and projected changes in weather and climate extremes in North America and U.S. territories.
Among the major findings reported is that droughts, heavy downpours, excessive heat, and intense hurricanes are likely to become more commonplace as humans increase atmospheric concentrations of heat-trapping greenhouse gases.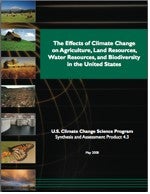 The report, released in May 2008, finds that climate change is already affecting U.S. agriculture, land and water resources, and biodiversity. Future impacts may include a higher risk of crop failures and livestock mortality, increased damage to forests from fires and insect outbreaks, more rapid growth of weeds, and changes in drought and precipitation patterns. Some crops and other plants may mature more rapidly or become more productive, while others will be adversely affected.
Produced by the U.S. Climate Change Science Program and the U.S. Department of Agriculture with authors from universities, nongovernmental organizations, and federal laboratories. The National Center for Atmospheric Research (NCAR) oversaw production of the report.