A favorable forecast for Kenyan students
3D-printed weather stations take critical observations at schools
November 30, 2016 | As scientists expand a program to provide critically needed weather observations in developing countries, they are forging a partnership with local schoolchildren and their teachers.
The students and teachers are helping to oversee and maintain innovative weather stations, built largely with 3D-printed parts, at four schools in Kenya. By transmitting information about temperature, rainfall, and other weather parameters, the stations can help alert communities to floods and other potential disasters, as well as provide improved weather forecasts to local farmers, who are deciding when to plant and fertilize crops.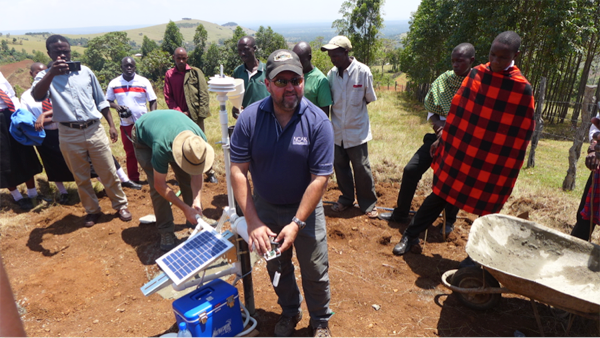 NCAR scientist Paul Kucera describes the various components of the 3D-PAWS at the Sirua Aulo Maasai High School. (©UCAR. Photo by Kristin Wegner. This image is freely available for media & nonprofit use.)
The weather stations, known as 3D-PAWS (for 3D-Printed Automated Weather Stations), are built with components that can be easily replaced if they wear out in the field. They were designed by weather experts at the National Center for Atmospheric Research (NCAR) and its managing entity, the University Corporation for Atmospheric Research (UCAR).
"In my 30 years of doing fieldwork, this is one of the best deployments I've ever had," said NCAR scientist Paul Kucera. "At every school, we were joined by hundreds of students and dozens of teachers who wanted to learn more about the weather stations and the value of these forecasts."
The weather stations were installed as a partnership with the Global Learning and Observations to Benefit the Environment (GLOBE) program, an international science and education initiative that encompasses tens of thousands of schools. This approach means that 3D-PAWS serves the dual purpose of educating students and improving forecasts.
"This is a great partnership to now extend our weather stations to schools," said Kristin Wegner, a project manager with the GLOBE Implementation Office, based at UCAR. "There is so much enthusiasm among the teachers and students because it's such a great learning tool as well as helping their communities."
Students will learn about local weather and climate by comparing their weather observations to those taken at other schools using science protocols established by GLOBE. They can also assess the impacts of climate change on society and the environment, as well as see how the observations help with farming, flood prediction, and other applications.
The installments took place during GLOBE's biannual Lake Victoria Learning Expedition, in which students and scientists from around the world explore the environment around the lake and discuss potential research collaborations. The expedition was coordinated by GLOBE Africa Regional Coordinator Mark Brettenny and  GLOBE Kenya Assistant Country Coordinator Charles Mwangi. Schools also received equipment donated from Youth Learning as Citizen Environmental Scientists.
Needed: more stations
Like many developing countries, Kenya does not have detailed forecasts, partly because weather stations are scarce. The density of stations in Africa is eight times lower than recommended by the World Meteorological Organization. Building out a network can be prohibitively expensive, with a single commercial weather station often costing $10,000 to $20,000, plus ongoing funding for maintenance and replacing worn-out parts.
To fill this need, UCAR and NCAR scientists have worked for years to come up with a weather station that is inexpensive and easy to fix and can be adapted to the needs of the host country. The resulting 3D-PAWS are constructed out of plastic parts that are custom designed and can be run off a 3D printer, along with off-the-shelf sensors and a basic, credit card-sized computer developed for schoolchildren.
The total cost is about $300 per station. As the stations age, the host country can easily have replacement parts printed.
Funding for the project comes from the U.S. Agency for International Development's Office of Foreign Disaster Assistance and the U.S. National Weather Service.
Scientists installed the 3D-PAWS in Zambia earlier this year. Kenya is the second country to receive them.
"We're looking forward to installing more stations," Wegner said. "Additional schools are already asking about them."
---
Funders
U.S. Agency for International Development's Office of Foreign Disaster Assistance
U.S. National Weather Service.
Partner
Global Learning and Observations to Benefit the Environment (GLOBE)
Writer/contact:
David Hosansky, Manager of Media Relations