Interior Alaska: Subsistence hunting in a warming world
April 8, 2011 | Alaska is among the fastest-warming places on Earth, with its interior region warming the most statewide. A study by NCAR's Shannon McNeeley looks at the vulnerability to climate change of rural native communities in the Koyukuk–Middle Yukon region, with an emphasis on how warming temperatures affect people's ability to hunt and harvest critical subsistence foods, particularly moose.
Over the last decade, communities in the region have reported difficulty harvesting moose before hunting season closes. Hunters cite warmer fall weather along with changing precipitation and water levels, all of which affect moose behavior and movement; the hunting season's regulatory framework also poses problems. However, autumn temperatures as measured during the three-month period of September through November show a relatively weak warming. This has left resource managers at state and federal agencies wondering how to reconcile local reports of warmer autumns with weather data that show a very small magnitude of warming.
For the study, McNeeley and colleagues integrated indigenous observations and understanding of climate with an analysis of meteorological data from the region. They found that weather records support the observations by indigenous hunters of warmer temperatures in the early fall (late August through September), when they most affect the moose hunt, which ends around September 25.
Because the region's social and ecological systems are highly sensitive to environmental change, even a very slight shift in seasonality caused by warmer temperatures, when combined with other stressors that the community experiences (social, biological, and economic), can have an outsized impact, according to the study. This "window of vulnerability" created in warmer-than-normal autumns decreases the opportunities for hunting communities to harvest moose before the regulatory season ends, threatening food security.
"Alaska Natives maintain a very close connection to their natural world, and are among the best teachers in the world for understanding the nuances of climate change impacts and adaptation," McNeeley says. "Integrating their observations with more conventional scientific data analysis provides more powerful insights than either can provide alone."
McNeeley, S.M., and Shulski, M.D., "Anatomy of a closing window: Vulnerability to changing seasonality in Interior Alaska," Global Environmental Change (2011), doi:10.1016/j.gloenvcha.2011.02.003  
The Koyukon Seasonal Round
(Click on image for a larger version.)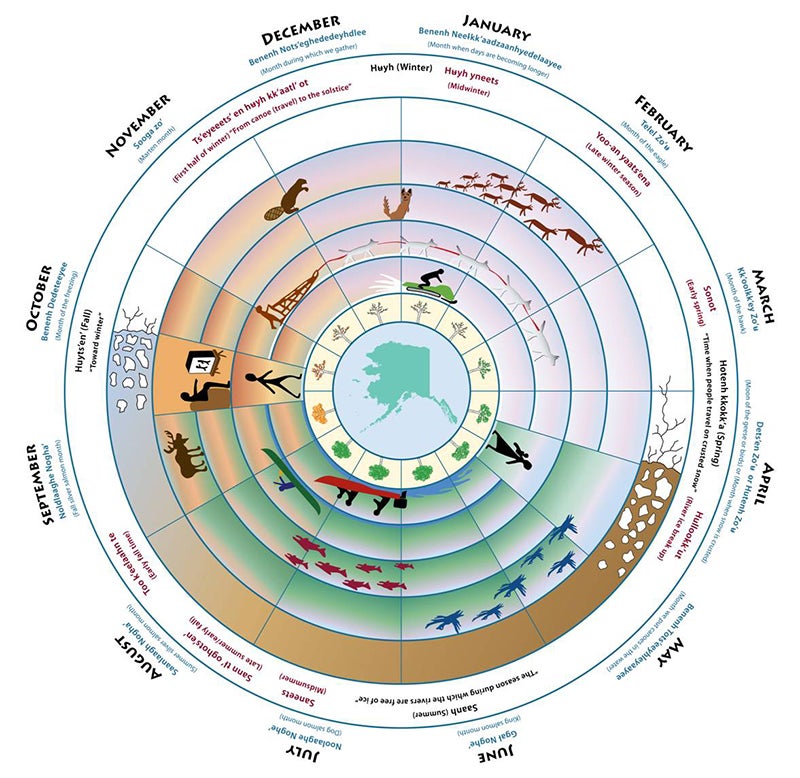 Image ©Shannon McNeeley. Reprint with permission only.