Winter weather: Story tips from NCAR and UCAR
BOULDER—Improved forecasting of winter storms and innovative technological systems to help keep winter drivers safe are among the goals of new work at the National Center for Atmospheric Research (NCAR) and collaborating organizations.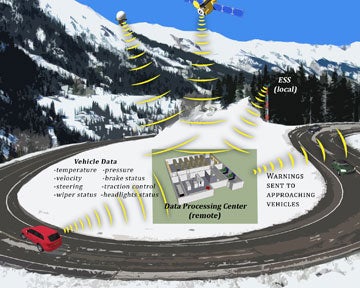 Help with winter driving hazards. Drivers could one day get warnings from the Vehicle Data Translator system, now in development and testing. (©UCAR. Illustration by Lex Ivey. See related background story for uncropped and high-resolution versions.)
Winter research extends from the tropics to Alaska and from the ground to the outer atmosphere. Areas of focus include the evolution of winter storms, wintertime events in the stratosphere that can jeopardize technological systems, improved tools to measure snowfall, projecting future spring snowpack in the Western states, and more.
In Depth: Winter Weather, a special report, provides background, photos, interactives, and video about winter-related research from NCAR and UCAR.
Research highlights