Hottest month in history?
Some U.S. cities are heading for that title right now
Bob Henson | July 26, 2012 • We still have a few days to go before this torrid month ends, but July is already promising to go down as the hottest month ever recorded in a number of U.S. locations.  (See the "Update" box at lower right for more details on how July turned out.)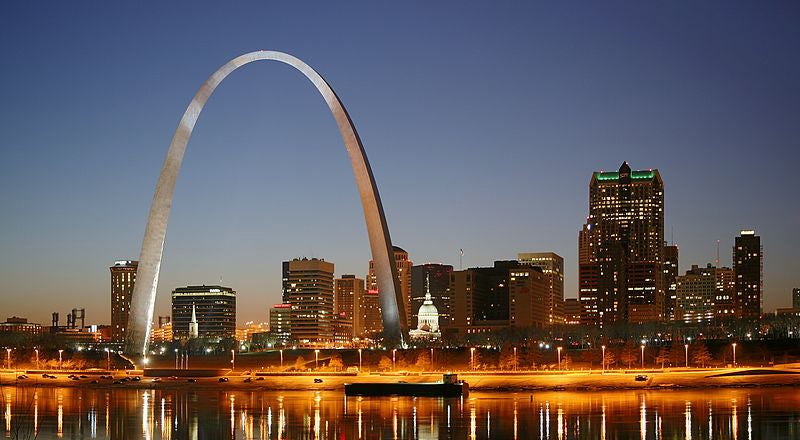 St. Louis is among the U.S. cities where July 2012 could be the warmest month ever recorded. (Wikimedia Commons photo by Daniel Schwen.)
One of the epicenters of this summer's drought and heat is the St. Louis area. As of July 26, the city's average temperature for the month (including both highs and lows) is a brutal 88.9°F. That's well above the city's warmest month since records began in 1874: July 1901, when the average was 87.4°F. A typical July (1981-2010) would average 80.0°F. Given continued heat in the forecast, it looks very likely that St. Louis will break this record.
The hot days in St. Louis this summer have been really hot. In fact, St. Louis has racked up 11 days at or above 105°F, the most recorded in any year. As for 100°F days, the city has had 16 this year—impressive, but still well short of the record 37 set in the Dust Bowl year of 1936.
In Detroit, July is currently averaging 79.6°F, compared to a typical 73.6°F. The city's warmest July and warmest month on record were notched just last year, with 79.3°F. However, with a cool front pushing temperatures down this weekend, it's likely that the Motor City will lose enough steam to keep the 2011 record safe.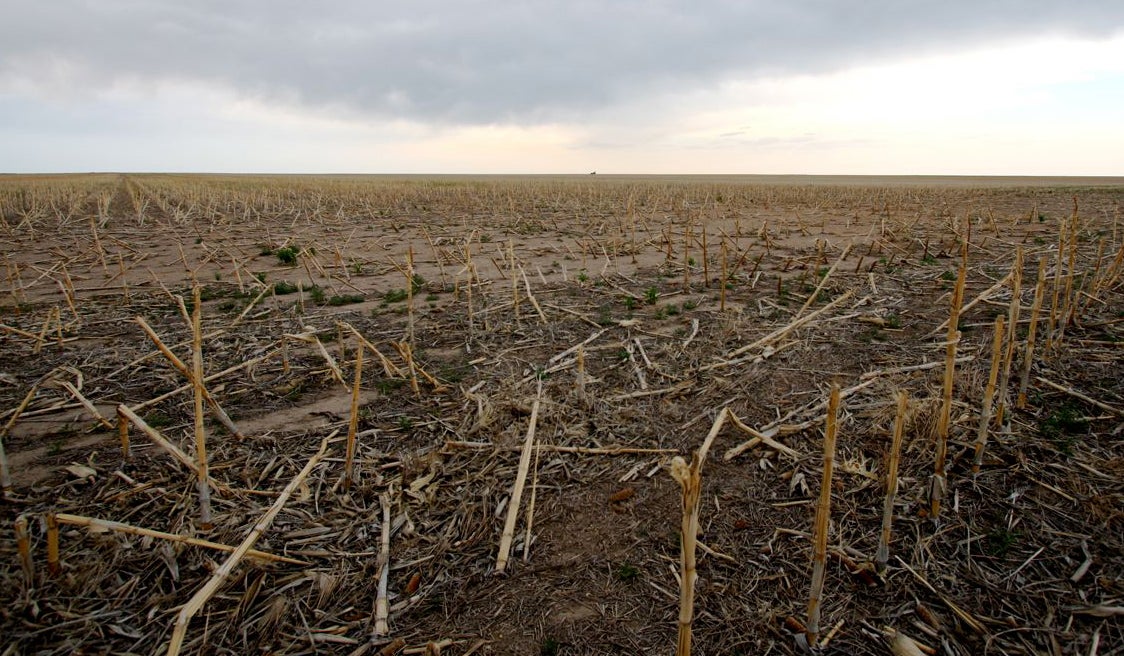 Corn stalks from the previous year's harvest lie atop parched fields in northeast Colorado in early June 2012. The ongoing heat and drought are devastating crops across the United States, the world's leading corn producer. (Photo by Bob Henson, © UCAR. This image is freely available for media & nonprofit use.)
Further west, Denver has a good chance of scoring the warmest month in its weather records, which go back to 1872. The champion thus far is July 1934, another Dust Bowl year, when the city's monthly average was 77.8°F. As of the 26th, this July is averaging 79.0°F. As in St. Louis, Denver has also scored a record number of 105°F days this year: two. The only other times Denver has hit that value—its all-time high—were on July 20, 2005, and August 8, 1878.
The mid-Atlantic and Southeast haven't been spared, although a few milder periods interspersed with heat waves have kept July just short of record territory in many cases. At Washington's Reagan National Airport, this month is averaging 84.0°F thus far. That's second only to July 2011 (84.5°F) among all months in D.C. weather annals, going back to 1871.
Update (August 1):
St. Louis ended July 2012 with an average temperature of 88.1°F, making it the city's warmest month on record. Indianapolis also topped all other months.
Detroit's average for the month was 79.0°F, tying with July 1955 and 1921 for the second warmest month on record.
Denver averaged 78.9°F for July, putting it more than 1°F ahead of all other months in city history.
Washington's Reagan National Airport averaged just below 84.0°F, making July 2012 runner-up to July 2011 among all months.
It also appears that July 2012 may have been the hottest month on record for the nation as a whole. As of July 28, the month's preliminary temperature estimate for the contiguous 48 states was running 3.48°F above the 20th century average, whereas the previous record holder, July 1936, was 3.14°F above average. In making its final verdict, NOAA will draw on the U.S. Historical Climatology Network, a subset of weather stations designed as a baseline for monitoring the nation's climate.
Update (August 9):
NOAA's National Climatic Data Center has verified that July 2012 was the hottest month for the 48 contiguous states since national records began in 1895. The monthly average temperature was 77.6°F, 3.3°F above the 20th century average for July.
References to several record-breaking events in this post have been adjusted to make it clear that these records apply only to the periods during which modern weather data have been collected.
Dealing with heat that won't quit
The last few days of a month can easily make or break a monthly record. Just one mild, rainy day that's 15°F below normal can trim about 0.5°F from a monthly average. However, that's unlikely to happen as July draws to a close across much of the drought-prone belt from the central Rockies to central Appalachians.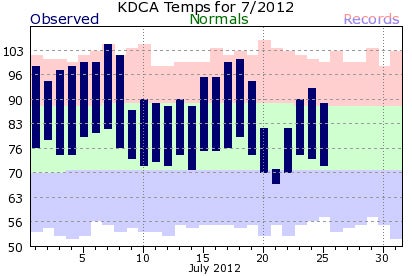 Both high and low temperatures have tended to run well above the normal range (green) this month at Washington's Reagan National Airport, but a couple of significant cool spells have kept July just shy of the top spot as the city's warmest month on record. (Chart courtesy National Weather Service/Baltimore-Washington.)
Indeed, the most dangerous aspect of heat waves like the current one is their relentlessness, when temperatures stay toasty day after day and night after night. On Wednesday, July 25, the low temperature in St. Louis was 86°F. That's the warmest daily low in the city's history, matching the record set on July 24, 1901.