New exhibit brings wild weather to life for NCAR visitors
BOULDER — A new weather exhibit at the National Center for Atmospheric Research (NCAR) will convey the power of thunderstorms, blizzards, hurricanes, and other atmospheric events to the tens of thousands of visitors from across the country who visit NCAR every year.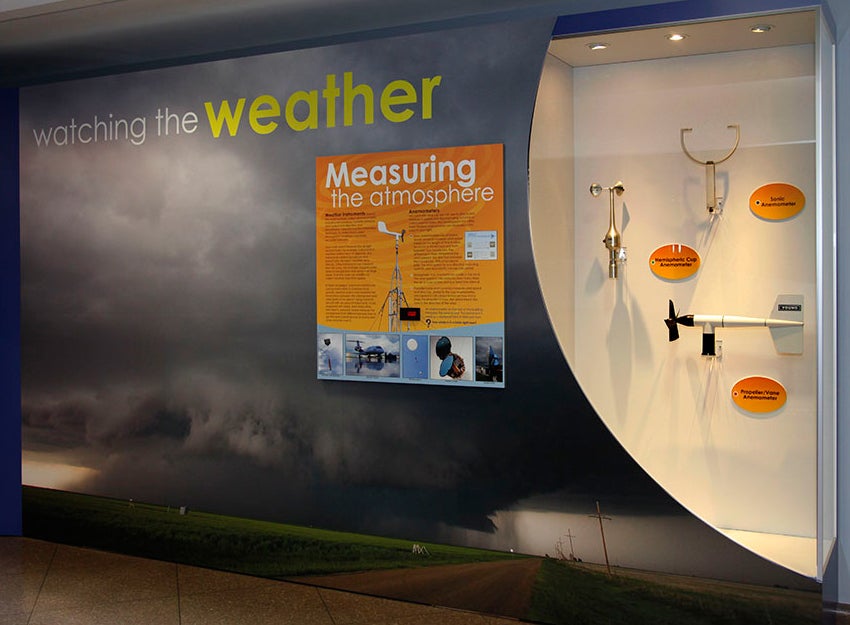 Three types of anemometers (wind-measuring instruments) are displayed in the new weather gallery at NCAR's Mesa Laboratory. The exhibit also includes real-time wind observations collected from the Mesa Lab's roof, where a reading of 137 miles per hour was measured on January 17, 1982. (©UCAR, Photo by Carlye Calvin. This image is freely available for media & nonprofit use.)
The exhibit, opening this month at NCAR's famed Mesa Lab, will also discuss the science of meteorology.
"Weather is a fascinating topic and it affects us all," says Rajul Pandya, director of Spark, the group that oversees science education for NCAR and its managing organization, the University Corporation for Atmospheric Research (UCAR).
"In the new Weather Gallery, visitors will discover the stories behind the weather. They can touch clouds, make forecasts, and learn how scientists understand weather using special instruments and computer simulations," Pandya says.
Pandya and his colleagues planned and created the exhibit with input from NCAR and UCAR scientists, engineers, designers, and writers. Denver-based Condit Exhibits designed the space and built most of the components.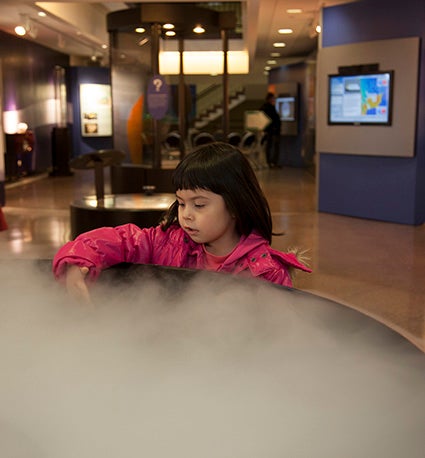 Vistors can experience clouds up close and personal in the new weather gallery. (©UCAR, Photo by Carlye Calvin. This image is freely available for media & nonprofit use.)
Each of the gallery's five sections has one or more hands-on exhibits, with several touchscreen monitors helping visitors delve deeper. One touchscreen allows people to compare a variety of cloud photos and descriptions to what they are seeing through windows on the east side of the gallery.
Several longstanding and much-loved exhibits in the first-floor space have been incorporated into the new gallery. They include a more than eight-foot-tall tornado, a microburst generation tank, and a display that shows current wind speeds measured atop the building. Boulder's strongest wind on record—137 miles per hour—was recorded at NCAR on January 17, 1982.
Among the gallery's interactive features are "Tell Your Weather Story," which allows visitors to describe and post their own experiences.
"We're excited to see how visitors respond to the new opportunities to interact and participate," says Becca Hatheway, Spark exhibits manager.
The Mesa Lab gets about 70,000 visitors a year, including hundreds of school groups. The NCAR Weather Gallery joins existing exhibits at the Mesa Lab on climate, the Sun, clouds and optics, and the architecture of the building, which was designed by renowned architect I.M. Pei. 
The visitor center at NCAR's Mesa Lab is open to the public 363 days a year and offers free exhibits about weather and climate, guided and self-guided tours, a gallery featuring local artists, an outdoor weather trail, and more. Hours are 8:00 a.m. to 5:00 p.m. on weekdays and 9:00 a.m. to 4:00 p.m. on weekends and holidays. More information for visitors is available at http://spark.ucar.edu/visit.
What can you learn at the new NCAR Weather Gallery?
How sound waves are used to measure wind
Which U.S. founding father said, "Some people are weather-wise; some people are otherwise."
How the weather on Colorado's 100th anniversary demolished 350 homes, destroyed 400 cars, and claimed 139 lives
What happens to sand dunes when you suddenly change the wind that blows over them
How a climate model can look decades into the future, even though we can't predict weather more than a few days in advance
Why no passengers on U.S. commercial flights have died in a wind-shear accident in more than a decade
What type of weather instrument is more than 2,000 years old
What combination of weather and terrain can push winds to more than 100 mph
Why it's so hard to know whether it'll be 65°F or 95°F on the Fourth of July in Boulder
What a hailstone looks like when it's seven inches wide