Hands-on Fun with Energy at Super Science Saturday, October 25
BOULDER—Kids and parents can enjoy hands-on fun while learning about energy at Super Science Saturday this month at the National Center for Atmospheric Research (NCAR). This free annual family event will be held on October 25 from 10:00 a.m. to 4:00 p.m.
Throughout the day, NCAR's "Science Wizards" will conduct experiments and demonstrations with various energy sources. This year's event will also highlight the sustainability of natural resources, with opportunities for families to learn about renewable energy, recycling, and composting. Xcel Energy will provide an interactive display of its new SmartGridCity technology, teaching kids and parents about the effects of their energy choices.
Other highlights of the day include face painting, a hand-crank kid-powered train, Segway rides for children who are 12 and older, and a super sticky Velcro wall.
Super Science Saturday is designed to promote public science literacy and provide memorable science experiences for families. Participants include the Wild Bear Center for Nature Discovery, University of Colorado Science Discovery, Colorado State University's "Little Shop of Physics," the National Renewable Energy Laboratory, Windows to the Universe, Fiske Planetarium, and others. The day is sponsored by the University Corporation for Atmospheric Research (UCAR) Office of Education and Outreach, Friends of UCAR, and KMGH Channel 7.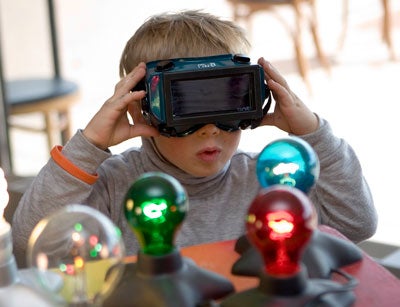 Kids have fun with science at Super Science Saturday. [ENLARGE] (©UCAR, photo by Carlye Calvin.) News media terms of use*
The event takes place at NCAR's Mesa Lab, located at the west end of Table Mesa Drive in Boulder. The Mesa Lab's exhibits, art galleries, and science store will be open all day. The store features science kits, educational toys, books for all age levels, clothing, and more. NCAR Science Wizard demonstrations will be held at 10:30 a.m., 12 noon, 1:30 p.m., and 3:00 p.m. Visitors can purchase lunch and snacks in the cafeteria.
For more information, the public may call 303-497-1174.