Teenage scientists from around the world to meet at landmark conference
BOULDER—Student scientists from the United States and around the world are converging in South Africa this month in what is likely to be one of the largest-ever international gatherings of teenage researchers. The conference, which takes place June 22-27 at the University of Cape Town, is organized by GLOBE, a worldwide science and education program operated in part by the University Corporation for Atmospheric Research (UCAR).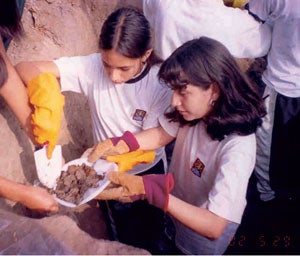 GLOBE students investigate soil characteristics as part of learning about the Earth as a system. (©UCAR, photo courtesy of the GLOBE Program.) News media terms of use*
"This landmark conference will enable GLOBE student researchers, who are some of the most motivated science students in the world, to come together to share their research and findings on environmental topics of critical concern to society, including climate, disease, and pollution," says Emmett Wright, deputy director of GLOBE and co-chair of the conference. "Out of this elite group will come many members of the next generation of scientists."
GLOBE (Global Learning and Observations to Benefit the Environment), which was implemented through a cooperative agreement between NASA and UCAR, is funded by NASA and the National Science Foundation.
The conference, known as the GLOBE Learning Expedition (GLE), will draw more than 200 middle and high school students, along with 250 scientists and educators. Its theme is "research for sustainable communities." Student presentations will focus on research areas such as:
Drinking water: Students in Cameroon, Croatia, and the Czech Republic are investigating the quality of drinking water from various sources and informing local officials of their findings.
Air quality: Two student projects in the Netherlands are looking at the health impacts of air pollution on such populations as bicyclists.
Human health: Students in Kazakhstan are trying to determine the cause of high levels of kidney stones, dental caries (cavities), and tooth decay in the local population, while students in Cameroon are looking at conditions that are most conducive to the transmission of malaria.
Climate change: U.S. students are looking at the impact of climate and other factors on the springtime budding of plants. Latvian students are examining recent temperature trends.
In addition to making presentations, the students will also have an opportunity to take part in fieldwork around Cape Town.
GLOBE is a hands-on science and education program for primary and secondary students, teachers, scientists, and community members around the world who study and research the dynamics of Earth?s environment. GLOBE began operations on Earth Day 1995. Since then, the international GLOBE network has reached more than a million students in over 20,000 schools located in 110 countries.
The following U.S. schools have students who will make presentations at the GLE:
Roswell Kent Middle School, Akron, Ohio,
The Pine School, Idaho
Kingsburg High School, California
Model Secondary School for the Deaf, Washington, D.C.
Indiana School for the Deaf, Indianapolis, Indiana
Ramey High School, Puerto Rico