Native Americans, scientists to discuss climate change at landmark symposium
BOULDER—Leading representatives from indigenous and scientific communities will take part in a landmark climate change symposium at the National Center for Atmospheric Research (NCAR) in Boulder. The March 19-21 event will bring together two climate change perspectives--one rooted in indigenous experiences and one informed by current scientific results.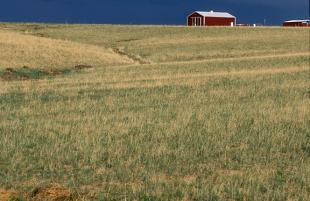 Climate change may have far-reaching impacts on Earth, including drought. [ENLARGE] (©UCAR, photo by Carlye Calvin.) News media terms of use*
The symposium, Planning for Seven Generations: Traditional and Scientific Approaches to Climate Change, is open to scientists, Native American representatives, and members of the public. Sponsors include the American Indian and Alaska Native Climate Change Working Group, NCAR, and the University Corporation for Atmospheric Research, which operates NCAR. NCAR's primary sponsor is the National Science Foundation.
"By bringing together the holders of scientific knowledge and the holders of indigenous knowledge, we will gain a fuller picture of the world we all live in and share—a fuller knowledge that will help us respond to the changing climate," says Professor Daniel Wildcat of the Haskell Indian Nations University.
"For the health and sustainability of our beautiful Earth, it is critical that we build bridges to share wisdom and to allow us all to work together now for our great-great-granddaughter's grandaughter's generation," says NCAR senior scientist Elisabeth Holland.
A primary goal of the symposium is to develop a collaborative way forward to learn more about Earth, blending traditional indigenous knowledge with experimental science techniques. Participants will discuss how different disciplines and cultures can work together, while offering opportunities for student participation.
The conference will feature observations by elders of climate change and its impacts, as well as presentations of new technologies to map impacts of climate change. Traditional practices, such as talking circles and storytelling, will be incorporated into the discussions. The conference will be Web cast.
Symposium speakers include:
Elisabeth Holland, an atmospheric chemist who regularly provides expertise on national and international research efforts. She has served as a lead author on reports by the Intergovernmental Panel on Climate Change (IPCC).
Billy Frank, a member of the Nisqually Indian Tribe who "speaks for the salmon" on behalf of 19 Treaty Indian Tribes in western Washington. Under Frank's leadership, the tribal role over the past 30 years has evolved into resource management.
Oscar Kawagley, an Alaskan Yupiaq and associate professor of education at the University of Alaska who grew up learning Yupiaq traditions from his grandmother. Kawagley is an expert in merging Yupiaq and modern traditions.
Albert White Hat, Sr., a member of the Rosebud Sioux Tribe of South Dakota who has been a Lakota language instructor for 25 years. In addition to providing Lakota translation for films such as Dances with Wolves, he wrote Reading and Writing the Lakota Language.
Caspar Ammann, an NCAR climate scientist who focuses on past changes in the climate. Ammann also looks at the impacts of natural events and human activities on global climate.
Denise Stephenson Hawk, director of NCAR's Societal-Environmental Research and Education Laboratory. Stephenson Hawk and her team look at human-environment interactions and provide policy-relevant science on weather and climate topics.
Shannon McNeeley, a Ph.D. candidate and NCAR visiting scientist who studies climate change impacts, vulnerabilities, and the adaptive capacity of Alaska Natives in the interior of Alaska.
The American Indian and Alaska Native Climate Change Working Group consists of individuals committed to strengthening links among Native American tribes, tribal colleges and universities, federal agencies, and nongovernmental organizations.