Promoting diversity in high-performance computing
NCAR taps new way to reach underrepresented groups
May 2, 2017 | Justin Moore was supporting his family of four with a job at an auto parts store while juggling classes at Salish Kootenai College, a Native American college in Montana, when he heard about a computing internship in 2014 at the National Center for Atmospheric Research (NCAR) in Boulder, Colo.
The internship, which used a small, low-cost computer called Raspberry Pi to teach key concepts of high-performance computing, quickly paid off. Today, Moore works full-time as an IT network specialist at Energy Keepers Inc., which manages the hydroelectric plant on the Flathead Indian Reservation in Montana, while he continues to chip away at his degree.
"I believe the skills I obtained in the internship can be directly attributed to my success in my field," Moore said. "It also gave me the chance to network with some of the brightest minds in the country."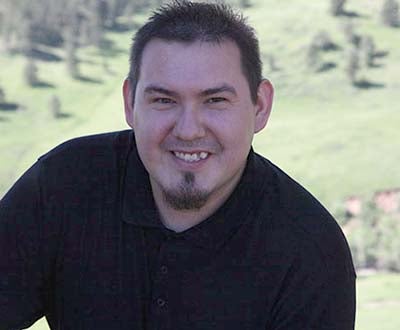 Justin Moore turned a summer internship at NCAR into a full-time computer networking job at a hydroelectric plant on the Flathead Indian Reservation in Montana. (©UCAR. Photo by Carlye Calvin. This image is freely available for media & nonprofit use.)
Since 2014, NCAR has been using Raspberry Pi as part of the SIParCS (Summer Internships in Parallel Computational Science) program to teach "hot" computing skills to small groups of university students, including one or two who are underrepresented in the sciences. In March, in efforts to reach more students, NCAR pivoted to an "externship" model, bringing the Raspberry Pi training to Miami Dade College faculty who can teach the skills to dozens of students at a time. 
"Raspberry Pi is a perfect platform for high-performance computing education because the credit-card sized mother boards can be linked together to mimic the parallel processing capabilities of a supercomputer and perform simplified geoscience applications," said Rich Loft, director of technology development in NCAR's Computational and Information Systems Laboratory.
A Raspberry Pi, which costs $35 or less, can run a full Linux operating system — the same system used by nearly all supercomputers, in more than 90 percent of smartphones, and in many other electronic devices.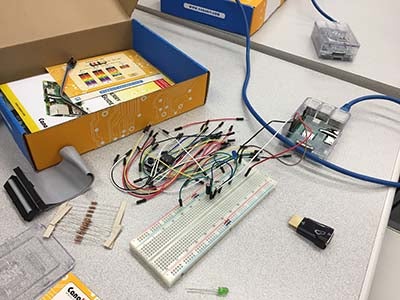 A Raspberry Pi kit used during the NCAR training at Miami Dade College. The Raspberry Pi circuit board is in the upper right-hand corner, connected to a blue cable. Components plug into a breadboard in the center of the picture (Photo courtesy Rich Loft, NCAR.)
"It's inexpensive. It levels the playing field," said Loft, who led the training at Miami Dade College. "In my view it busts the digital divide."
Loft noted that the previous internship approach wasn't reaching as many students as NCAR had hoped, partly because many students found it too difficult to relocate to Boulder during the summer. Miami Dade proved an ideal testbed for an externship model, since it's one of the country's largest universities, with eight campuses and more than 90,000 students, 70 percent of whom are Hispanic and 17 percent of whom are African American.
"This approach has scalability," Loft said, shortly after returning from the intensive two-day faculty workshop. "You can't scale up a program training one student at a time, even though it's very rewarding."
The NCAR directorate, which supported the Miami Dade training through a diversity grant, hopes that an expanded program will reap even greater outcomes.
A legacy of success
The Raspberry Pi internship approach already has yielded additional success stories, with students going on to graduate school and receiving prestigious scholarships.
Lauren Patterson, for example, was a student at Hampton University in Virginia when she learned Raspberry Pi as a SIParCs intern at NCAR, also in 2014. "I loved that I was able to work hands-on and assemble the Raspberry Pi cluster myself," Patterson said.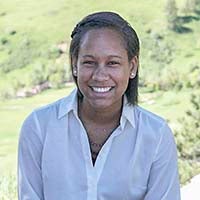 Lauren Patterson has received an Apple scholarship and will start a job at Google after completing her summer internship on Raspberry Pi at NCAR. (@UCAR. Photo by Carlye Calvin. This image is freely available for media & nonprofit use.)
She said her experience led to an Apple internship under its scholars program, a $25,000 scholarship, and a software engineering job at Google starting next fall in New York City. Apple scholars participate in a 12-week internship at Apple headquarters in California, receive ongoing coaching and guidance, and serve as Apple ambassadors on their campuses.
Gaston Seneza, a senior at Philander Smith College in Arkansas, said that before NCAR's SIParCS 2015 internship he had no practical knowledge of computers.
He learned about Linux, sensors, programming, cloud storage, and scientific research, and now has a passion for computer science. "Raspberry Pi was a game-changer for me," he said.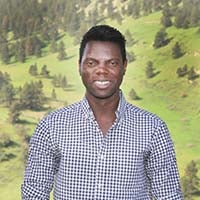 Gaston Seneza, who is from Rwanda, also won an Apple scholarship after his summer internship at NCAR. (@UCAR. Photo by Carlye Calvin. This image is freely available for media & nonprofit use.)
The Rwandan native also was named an Apple scholar, and aspires to go into the field of artificial intelligence. "My dream is to see a world where intelligent machines work for us."
Said Loft: "We're trying to get these kids on the hi-tech career onramp. You put machine learning or experience with parallel computing on your resume and you can get hired by Apple, Google, or Amazon – or get into graduate school. These are hot skills." Machine learning is a type of artificial intelligence in which a computer program can change or "learn" as it encounters new data.
Moore, Patterson, and Seneza all praised the mentoring by Loft, an NCAR senior scientist, and Raghu Raj Prassana Kumar, an NCAR project scientist who has worked with the Raspberry Pi training project since its beginning.
"It's a lot of fun, and it's very rewarding to help these young people learn," Kumar said.
Kumar is also known at NCAR for creative uses of Raspberry Pi, including connecting 12 of them to calculate Pi to a million digits on Pi Day in 2015. (It took longer than a day and one Raspberry Pi burned out from exertion, but it was successful.)
Connecting learning to everyday life
At the recent Miami Dade workshop, Kumar and Loft, along with University of Wyoming Professor Suresh Muknahallipatna and three of his students, taught 20 Miami Dade faculty members how to set up and program simple projects with a Raspberry Pi. One group used sensors to measure things like temperature, pressure, and humidity, while another created a word frequency histogram from the complete works of William Shakespeare using a Raspberry Pi Hadoop cluster.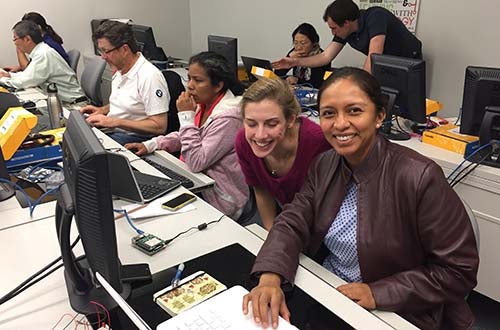 Ana Guzman (far right), a Miami Dade College associate professor of electricial engineering, gets Raspberry Pi tips from Cena Miller, a University of Wyoming student. A group of Miami Dade faculty members were trained recently on using the low-cost computers for hands-on teaching by a team that included NCAR computer scientists and University of Wyoming students. (Photo courtesy Rich Loft, NCAR.)
David Freer, a Miami Dade computer science professor, said he and his colleagues thought the workshop was terrific. "We worked with flame sensors that sent messages to users on their cell phones, along with other cool projects," he said.
Djuradj Babich, director of Miami Dade's School of Engineering and Technology, said he hopes to "ride the excitement wave" from the training and develop an ongoing relationship with NCAR. Loft said NCAR also hopes to reach out to additional universities.
Qiong Cheng, an assistant professor at Miami Dade, has since set up a Raspberry Pi in her office, complete with a motion detector. She said she will use the Raspberry Pi platform in her classes this fall, which are part of a new bachelor's program in data analytics.
She likes the fact that Raspberry Pi, combined with sensors, is an inexpensive way to measure data in the real world, and thus connect learning to everyday life.  "Students are more interested in that," she said, adding that Raspberry Pi supports "our mission to reach underrepresented students — to motivate them, to inspire them, and to provide them with a hands-on learning experience."
That's the kind of talk that excites Loft.
"We want to continue to collaborate to drive this home. Which means that Miami Dade is using this in their curriculum as the workhorse in their computer lab for students," he said. "That's what's going to make me very happy."
---
Writer/Contact:
Jeff Smith, Science Writer and Public Information Officer