2019 UCAR Next Generation Fellows announced
Program supports students from underrepresented communities
Sep 6, 2019 - by Ali Branscombe
The University Corporation for Atmospheric Research (UCAR) has announced the winners of the 2019 Next Generation Fellowships. The program, which is in its third year, supports graduate students from underrepresented communities in their professional careers as Earth system scientists.
The 2019 fellows are: Yakelyn Ramos Jauregui, in the Earth system science fellowship; Arthur Moses, in the public policy fellowship; and Diamond Tachera, in the diversity and inclusion fellowship.
The fellows will receive financial support for two years of graduate school and participate in two summer internships with UCAR and the National Center for Atmospheric Research (NCAR), which is managed by UCAR on behalf of the National Science Foundation.
"The Next Generation Fellowships were created to recognize that individuals with diverse backgrounds and experiences are an asset to the scientific community," said UCAR President Antonio Busalacchi. "This year's cohort continues to raise the standard set by past fellows in scientific rigor, problem-solving, and community engagement and inclusion in Earth system science."
Yakelyn Ramos Jauregui — Earth System Science Fellow
University of Washington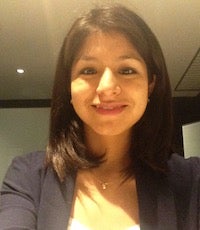 Jauregui is pursuing a doctoral degree in atmospheric sciences at the University of Washington where she is researching the impact of the Madden-Julian oscillation (MJO) on the western Pacific warm pool and its implications to the onset of El Niño events. While at NCAR, she will be using the Community Earth System Model (CESM) to analyze the MJO-El Niño relationship with particular focus on the air-sea interaction at the eastern edge of the warm pool.
Jauregui has an undergraduate degree in meteorology from the Universidad Nacional Agraria La Molina in Lima, Peru. An international student, Jauregui intends to take her scientific knowledge home to her native Peru, where she will work to improve weather and climate prediction for farmers and resource managers there. "Growing up in a family of farmers, I had first-hand experience that El Niño and La Niña impact people's livelihoods. Improving seasonal to interannual predictability will have significant impacts not only on people's lives but also on my country's economy," said Jauregui. 
Arthur Moses — Public Policy Fellow
University of Arizona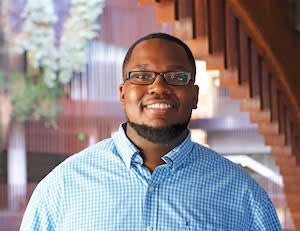 Moses is a doctoral student in soil and water sciences at the University of Arizona, where he focuses on testing water for contaminants that could be detrimental to public health. He also works with a citizen science program called Project Harvest to test harvested rainwater for microbes that could be a source of contamination for vulnerable communities in Arizona.
Moses is a veteran of the U.S. Marine Corps and earned his undergraduate degree in geography from the University of Maryland-College Park. While serving in the military, he was formally recognized with Certificates of Commendation for his service. "Through this fellowship, I will be able to form research questions that can not only help American communities but also improve our scientific capacity as a country by answering the scientific questions of interest to our government," said Moses.
Diamond Tachera — Diversity and Inclusion Fellow
University of Hawaiʻi at Mānoa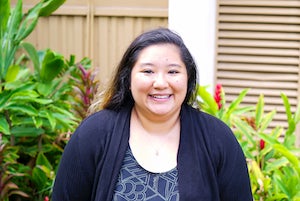 Tachera is a kanaka ʻōiwi (Native Hawaiian) student who is pursuing a doctoral degree in hydrogeology at the University of Hawai'i at Mānoa (UH Mānoa). Her research focuses on precipitation and groundwater connectivity between Hawaiian aquifers, and her scientific goals focus on the intersection of indigenous knowledge and the scientific process to create sustainable water resource management within the State of Hawaiʻi.
Tachera earned her bachelor's degree in geology and geophysics, also at UH Mānoa. Since she was an undergraduate student, she has participated in the Maile Mentoring Program, a campaign to support native Hawaiian students pursuing STEM degrees through mentorship. Tachera is also on the newly formed School of Ocean and Earth Science and Technology Diversity, Equity, and Inclusion Council at UH Mānoa. "As a kanaka Earth scientist, I think the intersection of indigenous knowledge and Western science could play a key role in water resource management," says Tachera. "I see myself as a science-community mediator in the future in a position that allows me to continue to work in a science field but placing importance on meeting and understanding community issues and goals.