NCAR Installs Massive Digital Storage Library from Sun Microsystems for Climate and Weather Records
BOULDER—The National Center for Atmospheric Research (NCAR) and Sun Microsystems, Inc. (NASDAQ: JAVA) today announced the arrival of a massive new digital storage library that will preserve and protect valuable scientific data for the next 15 to 20 years. The new system, known as AMSTAR and designed by Sun Microsystems, will give NCAR five times its current storage capacity, enabling scientists to conduct increasingly sophisticated computer studies of Earth's climate.
"We have a responsibility to science and to future generations of researchers," says Al Kellie, director of NCAR's Computational and Information Systems Laboratory. "Scientists are dedicating themselves to giving us a better understanding of our climate and our world, and we are dedicated to keeping their results safe and accessible."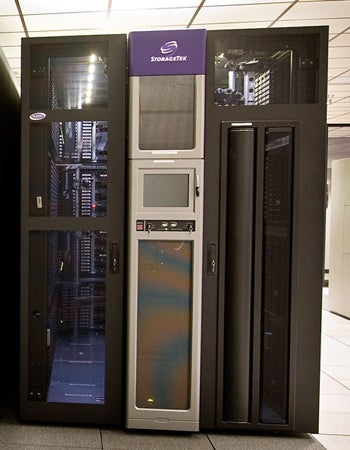 AMSTAR, NCAR's massive new digital storage library, will enable atmospheric scientists to conduct increasingly sophisticated computer studies. [ENLARGE] (©UCAR, photo by Carlye Calvin.) News media terms of use*
The new system is based on the Sun StorageTek SL8500 Modular Library. The NCAR name for the system, AMSTAR, stands for Augmentation of the Mass Storage Tape Archive Resources.
NCAR's Mass Storage System, or data library, is one of the largest archives in the world dedicated to geoscience research. It holds historical international climate records that are irreplaceable, data from field experiments and observations, and information gathered from weather stations, ships, planes, and satellites.
But the bulk of the Mass Storage System holdings is data generated by global climate simulations, weather models, and other Earth system models that run on NCAR's supercomputers. The demand for data storage continuously grows as researchers use increasingly complex computer models to study Earth's climate by simulating the atmosphere, oceans, sea ice, and land cover.
NCAR's current Mass Storage System has reached its capacity of six petabytes, less than six years after crossing the one-petabyte mark.
AMSTAR will give NCAR up to 30 petabytes of storage capacity in addition to achieving higher speeds without increasing power requirements. A petabyte (one million gigabytes or one thousand terabytes) is the equivalent of 223,101 DVDs, or more than 8,730 iPod Classics.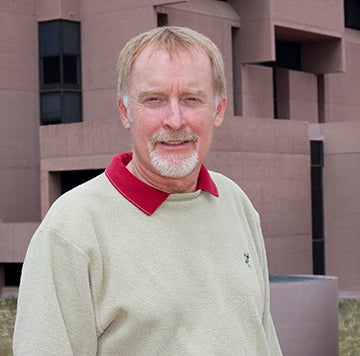 Tom Bettge. [ENLARGE] (©UCAR, photo by Carlye Calvin.) News media terms of use*
The capacity and design of the Sun Storage products will allow NCAR to incorporate AMSTAR into its Mass Storage System without having to rewrite any code. The system uses Sun StorageTek T10000B tape drives to store the data, with each tape capable of holding up to a terabyte of data.
"Sun and NCAR have a relationship going back almost 20 years," says Jason Schaffer, senior director of storage for Sun Microsystems. "When NCAR's storage needs jumped up 180 terabytes per month, we were pleased to win the competitive bidding by offering a Sun Storage product that could handle this increased capacity."
The assembly of AMSTAR's first two production libraries was completed last week. An additional library will be installed in 2010 to expand the AMSTAR system. Once the first two production libraries become operational in December, it will take approximately 18 months for NCAR to transfer all of the data from the current Mass Storage System tape archive to the new system, at a data transfer rate of about 140 megabytes per second. New data will be stored directly on the new system, as soon as testing is complete.
"We have over a thousand scientists around the world accessing this information for their research," says Tom Bettge, director of operations and services at NCAR's computational lab. "Ensuring that they can access and store the data easily, safely, and reliably is a task NCAR takes very seriously."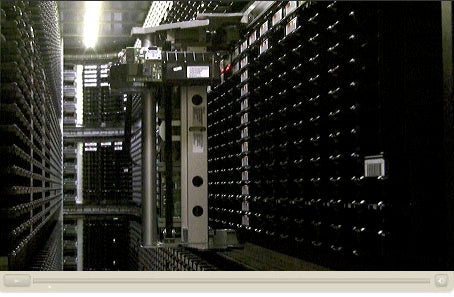 This video shows robots inside NCAR's new AMSTAR digital storage library responding to commands to fetch and mount tape cartridges for reading and/or writing. About halfway into the video, a robot scans the barcode labels on tapes within the library as part of the initial tape inventory process. (©UCAR.) News media terms of use*

Click here or on the image to play. To obtain a high resolution version of this video, please contact the media office.